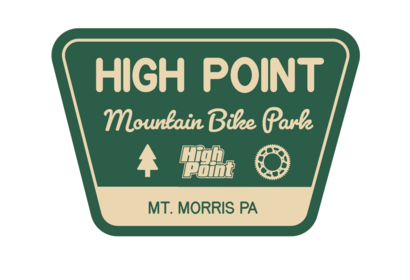 The High Point Mountain Bike Park was established in 2021. The park currently includes 3 miles of mountain bike trails with a mixture of Grand National Cross Country (GNCC) Racing style trails.
High Point Mountain Bike Park Rules:
No Motorized Vehicles.
Ride at Your Own Risk. Mountain Biking, like all extreme sports, can be dangerous. You are Responsible for your Own Safety.
Open Dusk to Dawn Only - No Night Riding.
Helmets Required.
Trails are CLOSED when Muddy or Wet.
Stay on Marked Trails.
Stay in Control at All Times.
Ride Safely Within Your Ability.
Ride Only in the Direction Posted - One Way Only.
Don't Ride Alone - Bring a Riding Buddy.
DO NOT Modify Trails or Features.
Children Require Adult Supervision.
No Camping, Campfires, Fireworks or Firearms.
Leave NO Trace: Remove ALL Trash.
This is PRIVATE PROPERTY - Failure to Follow our Rules may Result in Closure of the Park. Report All Incidents: (304)284-0101.