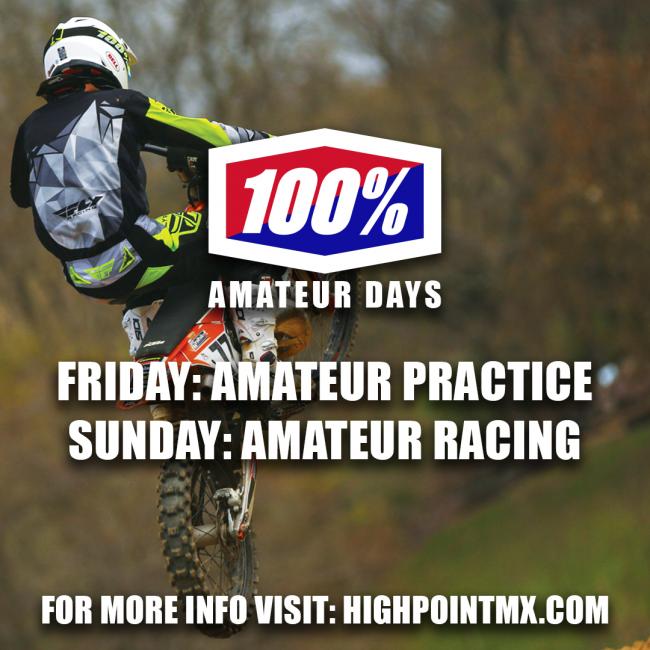 Friday, June 15
Amateur Practice
Organized Practice 9 a.m.
No membership necessary for practice.
Fees
Registration
Friday 7:00 AM @ Amateur Registration
Times:
9:00 am Practice; 3 rotations. Weather permitting.
Practice Order
A&B
C
All 85cc & Supermini
Age Division (25+ & older)
All 65cc
2nd Class Big Bike
2nd Class Minis
50cc practice will be held on the pee wee track
9 am - end of big bike practice.
Rotating practice every 20 minutes:
50cc 4-6
50cc 7-8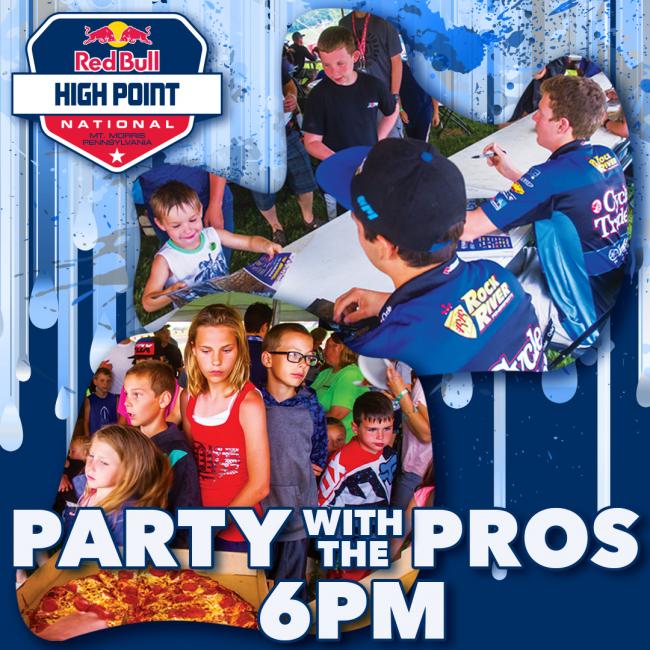 Pizza Party with the Pros
Friday Night "Pizza Party with the Pros" for ages 12 & under at the Lucas Oil Rig in Sponsor Village at 6 pm. Meet some of the top 250 pro riders and the lovely Lucas Oil Girls for some fun, food, games and autographs, compliments of Lucas Oil.
125 Happy Hour
Come see the 125 All Star racers take to the track Friday, June 15 at 7 pm for a practice session before they race on Saturday.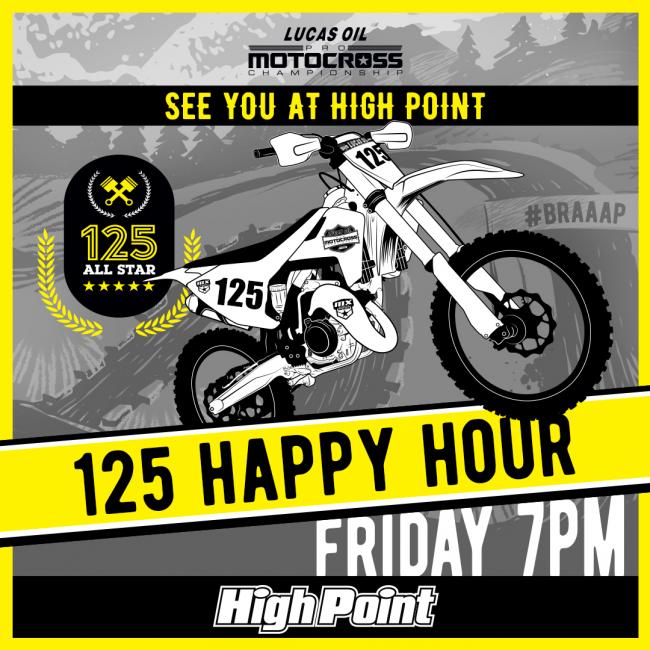 High Point Pit Bike National
Friday Night at 8pm on the PeeWee track
Hosted by Rob Buydos
Live music with DJ E-Lo
Ages 16 and up
$20 Entry at Amateur Registration 4-7pm
Classes
Clutch
No Clutch
Big Bikes
(TTR 125, KLX and Honda 150 Air-cooled)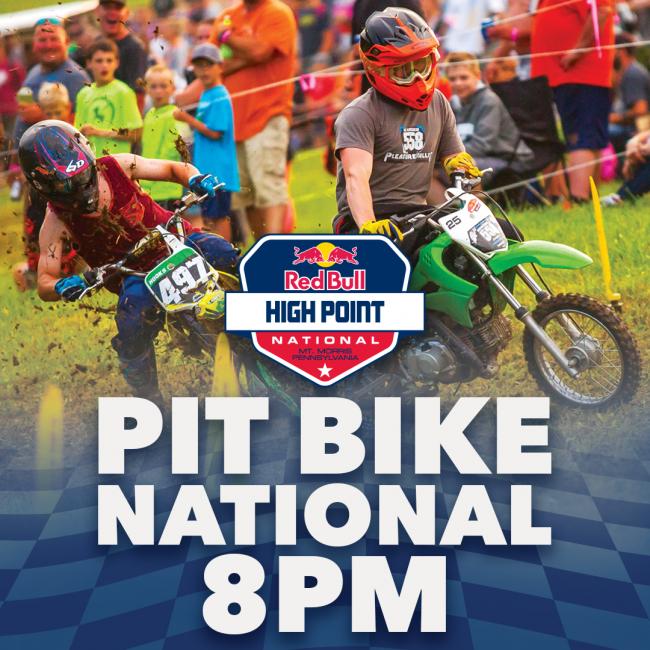 Sunday, June 17
PAMX Thor Championship Spring Series Presented by Dunlop
AMA Membership Required (available at the track)
PAMX Membership optional; Required for PAMX points only
Race Fee: $40/class; $5 discount for PAMX Members
2 Moto Format
Registration:
Saturday 6:00 – 8:00 PM @ Amateur Registration
Sunday 7:00 AM @ Amateur Registration
Practice:
8:00 AM, w/ Racing to follow immediately
Classes (NOT a race order):
50cc 1 (4-6)
50cc 2 (7-8)
50cc 3 (4-8)
50cc Open (Class 3 and Open, rider can not race both Classes)
65cc 7-9
65cc 10-11
65 C
85cc 9-11
85 C
Sr Mini 12-15 (Max Wheels 19"F 16"R 79-85cc 2-stk or 150cc 4-stroke)
Jr Mini 9-13 (65cc/85cc max wheels 17F-15R)
Supermini 12-16
Schoolboy 1 12-16 (99 to 125cc min/max rear 16/19" wheels_
Schoolboy 2 14-16 (250cc Max)
125cc B/C
250 B
250 C
** 250cc All Star A/B classification 100% Pay out B rider will receive Dealer Check
**Open A 200% Payback
Open B
Open C
Open D
Collegeboy B/C 14-24 years of age
4-Stroke
2-Stroke
+30 C Trophy
+25 paid with Dealer Check
+30 paid with Dealer Check
+40 paid with Dealer Check
+45 Trophy
+50 Trophy
Women +12 years old
Bomber +10 years
***ATV's
**Open A
Open B
Open C
+30
** Open A Class will be 200% every round
** 250 All Star will be 100% payback.
** Open A ATV 100% payback
*** New Change for 2018
Practice Order:
A&B
C
All 85cc & Supermini
Age Divisions (25+ & older)
All 65cc
2nd Class Big Bike
2nd Class Minis
ATVs
50cc