Kayla Bolton
Time
Wednesday, September 27, 2023 | 12:15 PM
FOR IMMEDIATE RELEASE
33rd Annual Big Dave Vet Homecoming Set to
Take Place at High Point Raceway This Weekend
MORGANTOWN, W.Va. (September 27, 2023) – This weekend at High Point Raceway, Lojak's Cycle Sales invite you to come out and join your racing family on this special weekend as we celebrate our motocross heritage and the memory of "Big Dave" Coombs (1941-1998). This event offers two days of unique racing and a wide selection of vet classes for all skill levels, as well as support classes for our younger racers.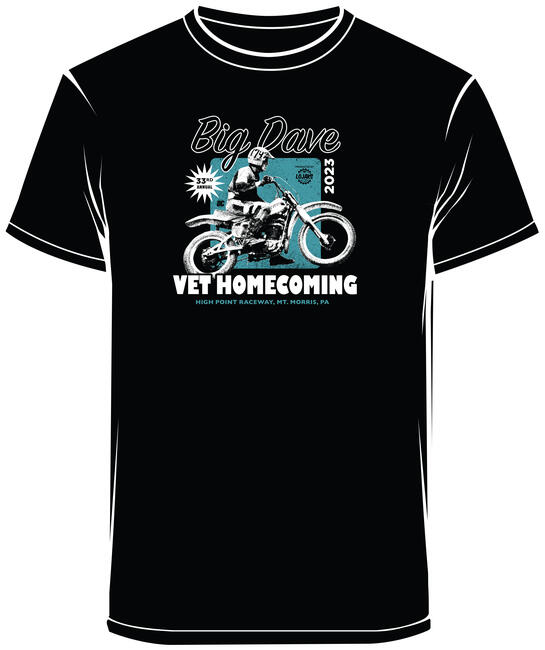 Saturday features GP-style Moto-X Country Racing. The Moto-X Country racing is a hybrid event combining elements of off-road racing and motocross into one unique competition. Taking place over a roughly three-mile course, racers will encounter woods sections intermittently separated by big European-style grass track sections. There are classes for all ages and skill levels, and you don't even have to be a "Vet" rider to participate! All classes will race (2) 30-minute motos on this hybrid course. Be sure to check out the Race Order before registering to see which classes run together.
Charlie Heard returns with his BBQ Dinner for $10 per ticket. The BBQ Dinner will take place on Saturday, September 30 at 6 PM. You can purchase your tickets at Rider Registration throughout the day Saturday.
The fun continues Saturday evening with STACYC racing for the kids and a Pit Bike race kicking off at 6:30 pm, along with a full evening of bench racing and karaoke with Racer X John with old buddies. Even if you're not here to race, Saturday evening promises to be full of fun and serves as a great time to catch up with old friends.
Sunday the focus will shift to the motocross track as the 33rd Annual "Big Dave" Vet Homecoming will take to the famous High Point Motocross track. Racers will be able to compete in numerous Vet-aged classes, Vintage classes and some Support classes for younger riders as well.
The afternoon will feature a Vintage Bike Show, numerous Vintage Contests with the opportunity to win some great prizes, and a Swap Meet. So, clean out your garage, shine up those vintage items and get ready to show-off your sh**… stuff at the Country Club of Motocross.
Weekend Admission:
Friday: $50 Adults (12+); $25 Kids (6-11)
Saturday: $40 Adults (12+); $20 Kids (6-11)
Sunday: $25 Adults (12+); $10 Kids (6-11)
Kids 0<5: Free
Camping: Free
GP Moto-X Country Registration Fees:
$40 Race Fee / Class*
Vet Homecoming Motocross Registration Fees:
$40 Race Fee / Class*
Pit Bike Registration Fees:
$25 Race Fee/Class*
*No AMA Membership Fee
Vintage Bike Show & Contest:
No Fee
2023 Saturday GP Practice
Practice 1:
C Classes, Women, 35+, 55+, 60+, Warrior & Evolution (Through 1986)
Practice 2:
Pro, A Classes, 25+, Sportsman
Practice 3:
B Classes, 45+, 55+, 125 and Revolution (Through 2008)
Practice 4:
Mini Support (65cc & 85cc)
2023 Saturday GP Race Order (Two 30-Minute Motos)
Moto 1:
250 A
250 B
250 C
45+
Moto 2:
50+
50+ C
Women
Warrior
Evolution (Through 1986)
Moto 3:
Mini Support (65cc & 85cc)
Moto 4:
Pro
25+
125
Open B
Open C
Moto 5:
35+
40+ C
55+
60+
Revolution (Through 2008)
Moto 6:
Sportsman
30+
30+ C
MX Staff – invite only
2023 Vintage Bike Show
There will be a judged contest on Sunday located next to the MX Sports tent. You must have your bikes entered by 11 a.m., and you are welcome to leave your bikes displayed while you race. Winners will be announced during intermission along with the winners of the other vintage contests below.
Golden Era (1970-1978)
Pre-Modern Era (1978-1982)
Modern Era (1982-1989)
Millennium Era (1990-2005)
Mini Cycle 0-70cc (Pre-1990)
2023 Vintage Contests
The vintage contests are back again this year, and we have some really awesome prizes! All you have to do is register your vintage items to the MX Sports tent by 11 a.m. on Sunday. Winners will be announced during intermission. If you have any items that could be in the running for the contests, bring them out! You might even end up in the magazine!
Vintage Race Gear
Vintage T-Shirt Contest
Best Race Program
Best Old-School Trophy
Furthest Traveled Competitor
Oldest Competitor
The winner of each category will receive a free one-year subscription to Racer X Illustrated, in addition to two (2) general admission passes for the High Point National in 2024. And for being so awesome, the furthest-traveled competitor will receive two (2) VIP Super Passes – a $400 value to the 2024 High Point National!