DC Vet Homecoming Returns to High Point
TimeWednesday, September 6, 2017 | 1:20 PM
FOR IMMEDIATE RELEASE
Chelsea Taylor
(304) 284-0084
[email protected]
DC Vet Homecoming Returns to High Point Raceway on September 16 and 17
Featuring Grand Prix/Moto-X Race and Activities for the Entire Family
MORGANTOWN, W.Va. (September 6, 2017) – The 27th Annual DC Vet Homecoming presented by Lojak's Cycle Sales returns to Mount Morris, Pennsylvania on September 16 and 17, for a 'throwback' of epic proportions as the veterans of motocross are set to take over the legendary High Point Raceway for a fun-filled weekend of racing and off-track activities.
On Saturday, September 16, High Point Raceway will host a Grand Prix/Moto-X-Country race, featuring a mix of obstacles including grass track, woods sections and portions of the motocross track. Registration for the GP race begins at 8 a.m., with practice at 10 a.m. and racing to follow. Racing will consist of two thirty-minute motos over a two-and-a-half mile course. For a complete list of Grand Prix classes, click HERE.
Registration for Sunday's DC Vet Homecoming motocross race begins at 7 a.m., with practice to follow at 9 a.m. For a detailed list of Vet Homecoming classes, click HERE. The race entry fee for both days is $40 for the first class, and $30 for each additional class, per day. Registration for both Saturday and Sunday's racing will take place at the event.
The DC Vet Homecoming commemorates the life and career of Dave Coombs. To honor Big Dave's passion and commitment to the veteran motocross community, Sunday's Vet Homecoming offers classes for vet ages 25+, 30+, 35+, 40+, 45+, 50+, 55+ and 60+ with a variety of options for different skill levels.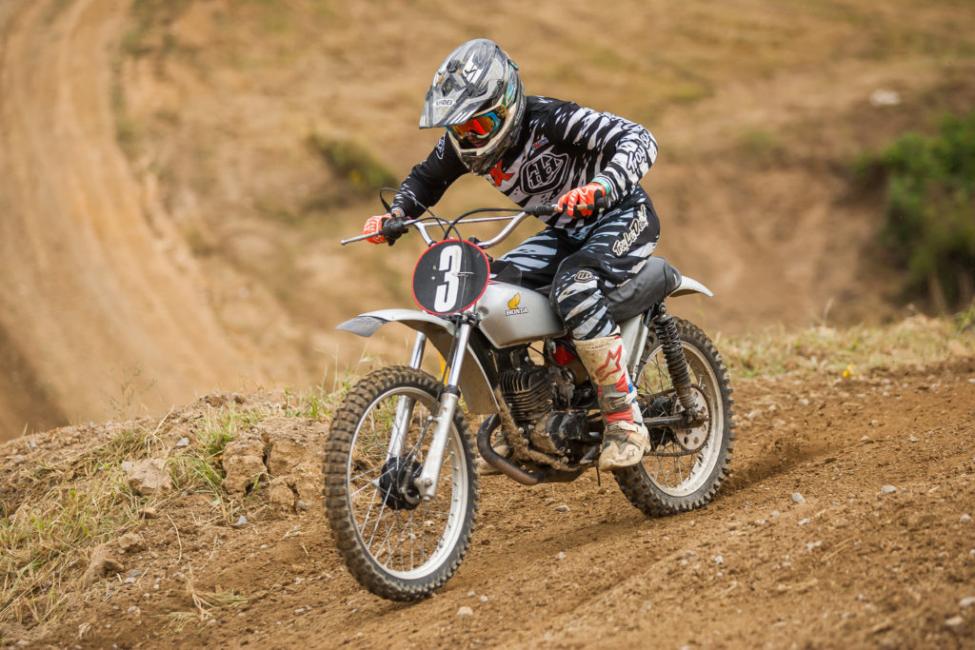 Of course a Vet themed race wouldn't be complete without a special division for vintage bikes. Three vintage classes will be offered including Retro (1986-1996 Front Disk/Rear Drum), Millennium (Pre-2006 Dual Disc) and Twin Shock (Pre-1975/1975+ Dual Drum). Support divisions including 65cc Open, 85cc Open and 18+ will also be offered on Sunday, creating a family-fun atmosphere for all agesIn addition to the action on the racetrack, the weekend will boast entertainment for all members of the family. After the racing action on Saturday, kick back at the track with karaoke music entertainment, along with a $5 barbeque dinner for everyone. Bench racing, retro films and corn hole also accompany the dinner, along with a bonfire – welcoming families to bring marshmallows and s'mores to enjoy all evening long.
The Vintage Contests are back again this year as well, offering some great prizes to the winners. All participants have to do is register their vintage item at the MX Sports display located in Sponsor Village by 11 a.m. on Sunday. Winners will be announced at Intermission. Vintage contest categories are: Vintage Race Gear, Oldest Race Program, Vintage T-Shirt, Best Old-School Trophy, Furthest Traveled Competitor and Oldest Competitor. The winner of each category will receive a free one-year subscription to Racer X Illustrated, as well as two (2) all day pit passes to the 2018 High Point Pro Motocross National. And for being so awesome, the Furthest Traveled Competitor will receive two (2) VIP Super Passes to the 2018 High Point National, a $400 value.
If you're not into racing your vintage bike but you still want to be a part of the festivities, you can show it off at the Vintage Bike Show, taking place Sunday alongside the "Swap Meet," where everyone is encouraged to bring out vintage gear and race items to sell, swap or barter. With a total of seven categories, the Vintage Bike Show has an option for everyone: Classic Four Stroke (pre-1996), Classic Two Stroke (pre-1970), Golden Era (1970-1978), Pre-Modern Era (1978-1982), Modern Era (1982-1989), Millennium Era (1990-2005) and Mini Cycle 0-70cc (Pre-1990).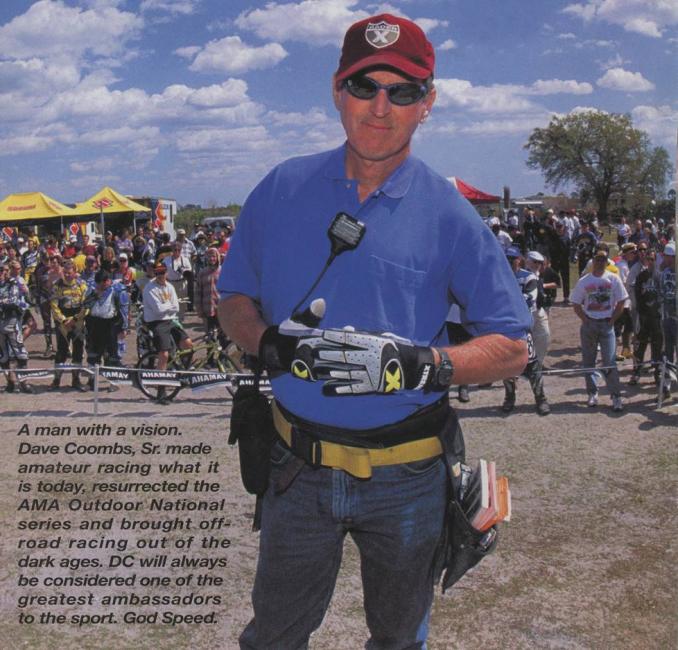 "DC" was Big Dave Coombs, one of the most influential motorcycle enthusiasts in the history of motocross and off-road racing. Together with his wife and partner Rita, from their home in Morgantown, West Virginia, were the driving force behind the creation of motocross and off-road motorcycle racing as we know it today.
As professional motocross privateer-turned-event-promoter, Big Dave Coombs was the co-founder of not only High Point Raceway and Steel City Raceway, but the AMA Amateur National Motocross Championship at Loretta Lynn Ranch, the Grand National Cross Country Series (GNCC), the National Promoters Group (NPG), the ATV Motocross National Championship (ATVMX), the legendary Blackwater 100, and much, much more. His legacy extends to the foundation of MX Sports Pro Racing, organizers of the Lucas Oil Pro Motocross Championship, as well as Racer Productions, Racer X Illustrated and Racer X Online. Big Dave Coombs passed on August 3, 1998 after losing his battle with leukemia. He was 57 years old.
Adult (12+) gate admission is $25 for the full weekend and $10 for kids (6-11), with kids five and under free. Gates open on Friday, September 15 at 6 p.m. and close nightly from midnight until 6 a.m. Camping is included with the admission fee.
To get to the raceway from Pittsburgh or Morgantown take I-79 to PA Exit 1, and proceed three miles to the gate entrance. From Hagerstown take I-70 west to I-68 west. Then take I-79 north to PA Exit 1 and follow the signs east three miles to the track. Big rigs should follow US 19 South and Rt. 100 after taking PA Exit 1.
For more information on the entire race weekend please call (304) 284-0084 or visit the official website at www.highpointmx.com. Also follow High Point Raceway on Facebook, Twitter and Instagram for exclusive content and to catch the latest news.