Kayla Bolton
29th Annual DC Vet Homecoming Race Report: The Hills of High Point Celebrate a Rich Racing Heritage
Time
Thursday, October 3, 2019 | 9:45 AM
FOR IMMEDIATE RELEASE
Kayla Bolton
(304) 284-0101
[email protected]
29th Annual DC Vet Homecoming Race Report:
The Hills of High Point Celebrate a Rich Racing Heritage
MORRIS, Pa. (October 3, 2019) – The 29th Annual DC Vet Homecoming weekend kicked off on Saturday, September 21 with GP Moto-X Country racing, and continued on Sunday, September 22 with Vet Homecoming Motocross racing. The event, presented by Lojaks Cycle of Tarentum, PA, turned out 765 riders throughout the weekend at legendary High Point Raceway for the 'throwback' event to celebrate High Point's heritage and its founder "Big Dave" Coombs.
On Saturday, former local pro motocross star Darryn Durham would battle it out with Ben Parsons for the Pro overall win in GP Moto-X Country racing. Durham would finish 2-1 for the win with Parsons going 1-2. Sam Evans battled back after a fifth place finish in the first moto to take third overall on the day. Ryan Lojak earned fourth overall after earning a pair of fourth place finishes in the Pro class.
In the highly competitive 250 A class, Ben Parsons would jump out to the early lead battling with Pennsylvania's Alex Teagarden. Parsons would manage to hold off Teagarden and earn the overall win by going 1-1. Teagarden would finish behind Parsons both motos earning second overall with Ryder LeBlond going 4-4 to finish third overall in the class.
A variety of age classes ranging from 25+ to 60+ were also offered in the GP Moto-X Country. Andrew Boggs out of Masontown, West Virginia earned the 25+ overall win, with Broc Streit coming through with 1-1 in the 30+ class. Jason Stickley went 2-1 in the 40+ A class to take the overall win from Barry Hawk after he earned the first moto win. Ralph "Be" Thorn came through first overall in the 50+ A class, followed by Ronnie Stewart taking home the 55+ win and Jay Kinder earning the 60+ class win on Saturday afternoon. To see a full list of results, click HERE.
Sunday's DC Vet Homecoming Motocross took off the gate honoring Big Dave's passion to the vet motocross community. An assortment of age classes as well as vintage classes were offered for Sunday's motocross racing. In the 25+ A class it was Steve Roman Jr. grabbing the lead and earning both moto wins, with Jason McConnell Jr. coming through right behind him in second overall.
Roman Jr. also found himself leading the way in the 30+ A class with Broc Streit, Bryan Bachman and John Delbalso rounding out the top four riders. Mark Greenwald found himself battling back in the 35+ class after a fourth place finish in the first moto, however Greenwald would push throughout the day and finish 1st in the final moto ultimately earning the overall win.
Johnny Onisko went 2-2 to finish first overall in the 40+ A class after Chad Sanner had a sixth place finish in the first moto followed by a second moto win to take second overall. In the 45+ A class, Ralph Anthony Jr. would go 1-1 with Raymond Niebel taking the second overall position with a pair of second place finishes on the day. Niebel would come back to take the 55+ class overall win with a pair of 1st place finishes.
Ralph Yeager would battle throughout the day in the 60+ class, but would eventually come through first in both motos to take the overall win. David Weatherford would not only take home a contest win for being our oldest competitor at age 70, but he would take home the overall win in the 70+ class.
In the Vintage class (motorcycle through 1974), Tyler McGoff from Greensburg, Pennsylvania took home the class win after going 1-1 on the day. In the Evolution 1 class, Todd Streit went 2-1 for the overall win with Colin Carman going 1-3 for second overall. Ohio's Shane Kuntz took home the Evolution 2. In the Evolution 3 class, Todd Streit would once again take home the top honors with Lamont Hunter and Don Carman coming through second and third overall.
Nathaniel Kronk went 1-2 for the Revolution 1 class win, while Broc Streit came through second and Christopher Stuckey rounded out the top three overall. Aboard the #437 machine was Charles Bright who earned the overall win in the Revolution 2 class followed by Tate Elliott and Broc Streit coming through second and third.
Two new additions to the 2019 DC Vet Homecoming Motocross races on Sunday were the Warrior 25+ and 40+ classes. These classes were free race entry to active and retired Military personnel. In the 25+ class it was Brian Adamson coming through 1-1 while Bryan Emery and Lucas Myers went 2-2 and 3-3 to round out the top three. Cody Hannum and Derrick Kniceley also took part in the 25+ Warrior class. In the Warrior 40+ class it was George Gray coming through to take the win with Richard Greathouse, Jimmy Crytser and Eric Bisko rounding out the top four. Racer Productions would like to thank all of the participants in the Warrior classes for their service. To see a full list of Sunday's motocross results, click HERE.
During intermission on Sunday afternoon the Grand Marshal of the 2019 event, Broc Hepler, was awarded two framed pieces of official event t-shirt artwork from Racer Productions. The artwork was the original official pro motocross event t-shirt artwork from the 2007 Steel City and the 2008 High Point Pro Nationals in which Hepler was the featured rider.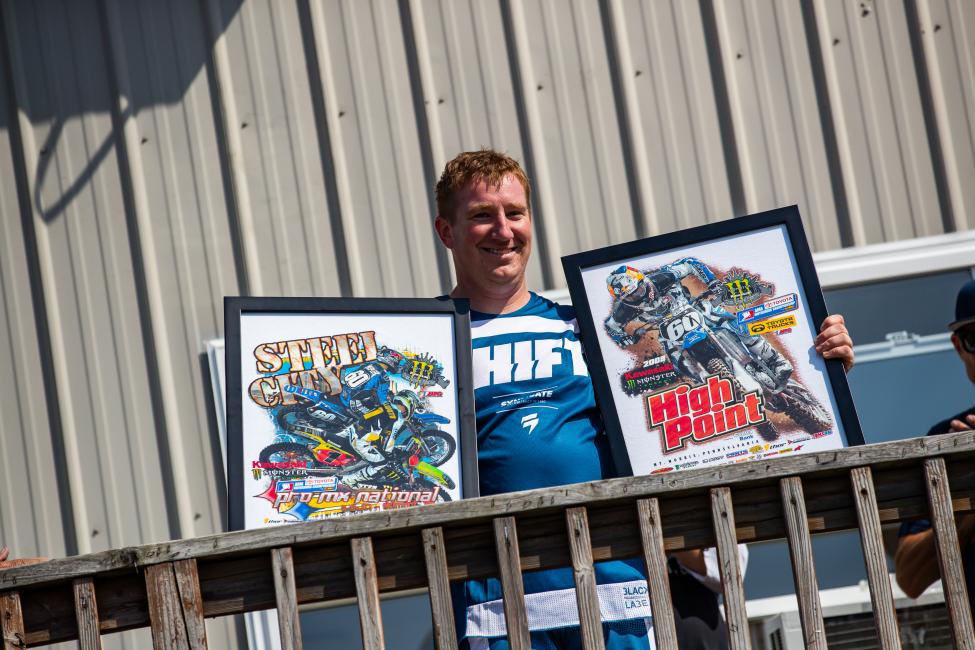 Event Ambassador Bobbie Show was also presented with the 2019 Official Pro Motocross 30-second board in recognition of his hard work to promote the event and to honor the heritage of the western Pennsylvania motocross racing community with his Western PA Motocross Time Machine Group on Facebook.
A Celebration of Life Ceremony took place to remember our friends Jeff Provance, Captain Russ Bennett, June Holliday and Charles Hyde. Family members were presented teardrop memorials in honor of their loved ones from their "Motocross Family". It is important to recognize the sense of community that the Motocross Racing Family gives us and the life-long friendships we develop throughout our racing careers, whether we are racers, family members or just hard-core fans.
Awards for the vintage contests and bike show were also presented during intermission. The winners were:
2019 Vintage Bike Show Winners:
Golden Era - Ken Speer - Slippery Rock, PA - 1972 HQV WR250
Pre-Modern Era - Dan Smiley - Westernport, MD - 1978 HQV CR390
Modern Era - Dann Raible - Pittsburgh, PA - 1987 SUZ RM125
Millennium Era - Cory Mikes - Eighty Four, PA - 2002 KAW KX125
Mini Cycle - Paul Frey - Wexford, PA - 1971 YAM JT-1
2019 Vintage Contest Winners:
Best Old School Trophy - Jay Kinder - Fredrick Town, PA - 1974 Appalachian Lake
Furthest Traveled Competitor - Tack Spiker - Temecula, CA
Oldest Competitor - David Weatherford - Chesapeake, VA - 70 years old
Vintage Race Gear - John Kreps - Valley City, OH - 1988 Answer Suzuki Gear with 1990 O'Neal Boots + Bell Moto Helmet
Best Race Program - Carl Davis - Castalia, OH - 1976 Delta National
Vintage T-shirt - James Sprites - Jefferson Hills, PA - 1990 High Point National Event T-shirt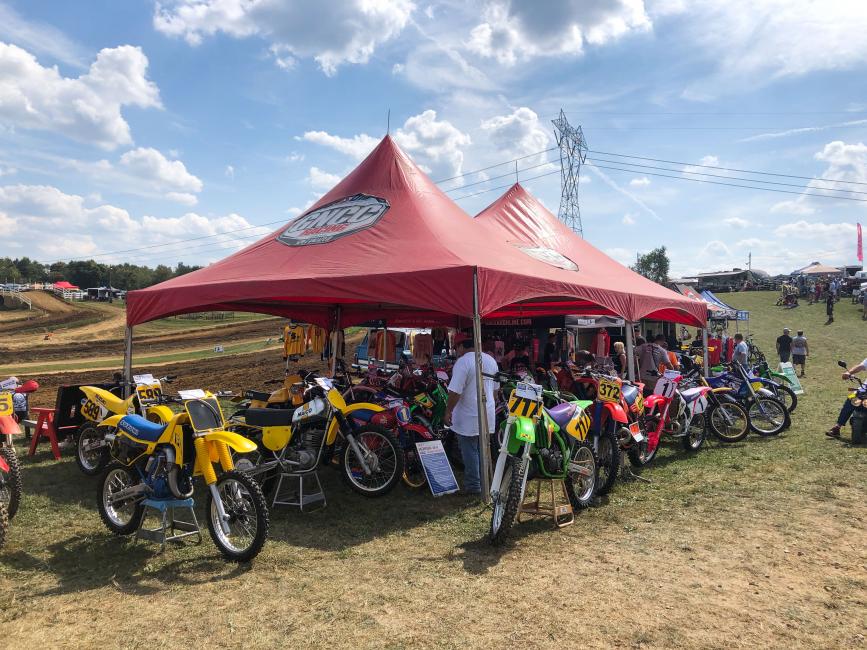 In addition to the on-track racing action both days, the off-track action Saturday evening was just as wicked as the karaoke kicked it up a notch up with Racer X John. The singing talent runs deep among moto fans in western Pennsylvania.
For more event photos, check out our Photo Gallery HERE.
Mark your calendars for September 19 and 20, 2020 as we celebrate the 30th Annual Vet Homecoming at High Point Raceway and reflect with our friends on our racing roots.
For more information on the entire race weekend please call (304) 284-0084 or visit the official website at www.highpointmx.com. Also follow High Point Raceway on Facebook, Twitter and Instagram for exclusive content and to catch the latest news.